Free Report:
The 7 Most Critical IT Security Protections Every Business
Must Have In Place Now To Protect Themselves
From Cybercrime, Data Breaches
And
Hacker Attacks
82,000 NEW malware threats are being released every day, and businesses (and their bank accounts) are the #1 target. To make matters worse, a data breach exposing client or patient information can quickly escalate into serious reputational damage, fines, civil lawsuits and costly litigation. If you want to have any hope of avoiding a cyber-attack, you MUST read this report and act on the information we're providing.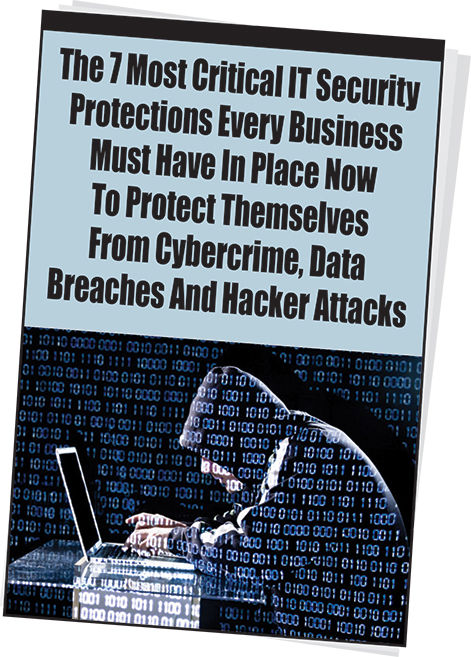 Download This Free Report To Learn:
The #1 threat to your business that even the BEST firewalls and anti-virus software can't protect against (and what you need to do now to remedy it).
The biggest security risks with cloud computing and what you need to do to stay safe if you're going to store client data, confidential data and financial information in the cloud.
A common misconception about business bank fraud that will shock you – and 3 simple things you can do to protect your bank account from unauthorized access and theft.
How to keep your network secure with the proliferation of mobile devices, cloud applications, e-mail, and social media sites connecting to your computer network.
RJ2 Technologies is a trusted partner that specializes in the Chicagoland area. We are a one-stop shop for all of your IT, Internet, hardware and software needs including data backup, security solutions, help desk, cloud and mobile solutions, e-mail, Internet, phone and VoIP solutions and much, much more! Click here to learn more about us.
Claim Your FREE
Report Today
Important! We hate spam as much (or more!) than you and promise to NEVER rent, share, or abuse your e-mail address and contact information in any way.
RJ2 was hired in 2002 to provide a new enterprise wide IT architecture involving the construction of IT facilities, procurement and implementation. They installed all new hardware and software, a Windows upgrade, new security programs and the implementation of a high speed wide area network connecting all of our offices. We have been very pleased with the professionalism of your people and the solutions that your firm continues to provide us.
Skip Schrayer
President
We have had the pleasure of working with RJ2 over the past few years. All the individuals have been very helpful, professional, prompt and courteous. The difference they have made in our computer environment is tremendous. RJ2 has implemented new state-of-the-art systems, upgraded our software, integrated third party software and established connectivity with remote offices
These changes have resulted in absolutely no delays in application responsiveness and consistent high-speed internet connectivity. We have virtually no downtime in the past couple of years. RJ2 staff is just a phone call away. I feel our computer environment has improved 100% and this is due to our association with RJ2!
Heidi Peterson
Vice President
Auto & Home Insurance